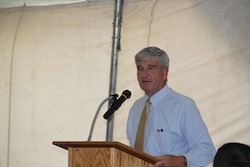 Green Plains Renewable Energy's (GRPE) ethanol plant in Shenandoah, Iowa is celebrating its 5th Anniversary. August 23 marks the first date of Shenandoah's first grind. GPRE is excited about the achievement because this was their first of nine plants that they own and operate. In addition, this is the location of their partnership with BioProcess Algae, currently the only algae biorefinery using carbon dioxide directly from an industrial plant.
Since Shenandoah's 1st grind on August 23, 2007:
Processed 108,665,339 bushels of corn
Produced 308,806,276 gallons of ethanol
Produced 625,000 tons of dried distillers grains
Produced 519,745 tons of modified distillers grains
Produced 6,900 tons of corn oil
Created 43 jobs in Shenandoah
GPRE held a celebration event for the local community that included a social hour, lunch and several presentations. Speakers included; Jim Stark, Vice President of Investor & Media Relations, Green Plains; Shenandoah Mayor Richard "Dick" Hunt; Gregg Connell, Executive Director, Shenandoah Chamber & Industry; Jeff Briggs, Chief Operating Officer, Green Plains; and Cory Scamman, General Manager – Green Plains Shenandoah.
Bioprocess Algae is in the final stage of construction of its Phase III Commercial Farm and it is expected to be completed in the next few weeks.