California has released its 2012 Bioenergy Action Plan with the goal of improving the timeline to market of energy development, job creation and protection of public health and safety. The state defines bioenergy as energy produced from organic waste such as forest, urban and agricultural that would otherwise go into a landfill or be burned. The state is looking at Bioenergy to help create new jobs, protect the public from issues such as wildfires, landfill pollution, dairies, wastewater treatment facilities and other waste.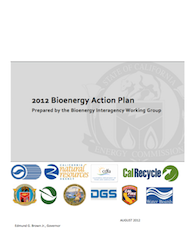 "Swift action on bioenergy will create jobs, increase local clean energy supplies, and help businesses grow in California," said California Natural Resources Secretary John Laird. "Increasing bioenergy opportunities will also help California meet its climate change goals and protect public health and safety."
The 2012 Bioenergy Action Plan was developed by a combination of state agencies and outside experts as directed by California Governor Brown. The plan contains more than 50 recommended actions to increase the use of organic waste, expand research and development, reduce permitting and regulatory challenges and address economic barriers to bioenergy development.
"Bioenergy is an exciting new frontier for agriculture," said Karen Ross, Secretary of the California Department of Food and Agriculture, one of the agencies that collaborated on the report. "It creates jobs, reduces energy costs and reduces pollution. Early adopters are already realizing these benefits and are blazing the path towards self-sufficiency for agriculture."
Expanding bioenergy development benefits California agriculture by providing an onsite or local source of clean energy, either electricity or liquid fuels for farm and other vehicles. The state currently produces about 600 megawatts of electricity and 50 to 100 million gallon equivalents from organic waste each year. The state hopes to double these numbers through the execution of the plan recommendations.