With the ongoing drought in the United States, the ethanol industry is learning how to adjust in unforeseen conditions.  While the industry is facing much criticism for being a cause of rising food prices affecting livestock producers and food manufactures alike, the industry needs to be armed with the right information to fight back. One place to get this information is during the upcoming  F.O. Licht's World Ethanol & Biofuels event that is taking place in Munich, Germany on November 5-8, 2012.
Topics that will be discussed include:
What impact will this have on your business?
How high are corn prices expected to rise to?
What is expected to happen with sugar, wheat and molasses prices?
Globally, what impact will the drought have on ethanol trade flows, production and policy?
How can the biofuels industry better protect itself from this renewed negative onslaught from the media and the food and feed lobby groups?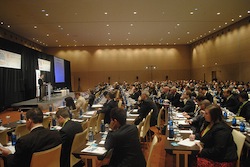 There will be more than 700 attendees and
70 speakers from around the world
. Some key presentations will be given by:
Bob Dinneen , President and CEO, Renewable Fuels Association (RFA), USA
Simon Mitchell, Director Strategy and Business Development Sugar and Ethanol, Bunge, UK
Michael Schmidt, CEO, BP Europa SE & Head of Country, BP Deutschland
Hans van Steen Head of Unit, DG Energy EU Commission
Yue Guojun Assistant President COFCO, China
Mike Dwyer, Director, Global Policy Analysis Division, U.S. Department of Agriculture (USDA)
Claudiu Covrig, Analyst – Ethanol & Feedstock, Sucden Geneva S.A., Switzerland
Frank Seyfried, Head of Group Research, Battery and Fuels, Volkswagen AG, Germany
Siegfried Knecht, Chairman of the Board, aireg – Aviation Initiative for Renewable Energy in Germany e.V.
For more information about the conference click here.