According to a recent ORC International survey, 81 percent of Americans are concerned about "increased drought" and other extreme weather conditions. Conducted on behalf of the Civil Society Institute (CSI), the poll results showed that concerns about drought, of which the many states have been severely affected, go hand in hand with worries about water shortages.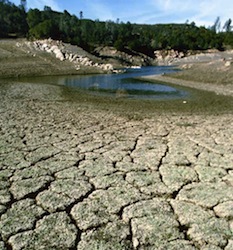 Three out of four Americans think that, "with all the current concern about severe drought and the risk of water shortages, America needs to start focusing more on alternative energy sources, such as wind and solar, that require less water."
Other key findings include worry over shortages of safe drinking water due to drought and "the diversion of water for energy production" is the No. 1 overall concern in 10 drought-stricken states including, Arizona, California, Colorado, Florida, Georgia, Missouri  Nevada, New Mexico, South Carolina, and Texas. Nationwide, 64 percent of respondents are "very concerned" about the prospect of  "possible shortages of safe drinking water" due to drought and diversion for energy production.
On average, 85 percent of Americans believe availability of ample clean water should be a top national priority for the country. In addition, 89 percent of respondents said that want an energy/water "road map" for the country. People believe that, "U.S. energy planning and decision making must be made with full knowledge and understanding about the availability of water regionally and locally, and the impact this water use from specific energy choices has on their economies, including agricultural production."
"We now understand all too well the harsh realities of the current drought and its relationship to changes in the climate from global warming. America's 'all of the above' non-solution for electricity generation is a dead-end path – one requiring vast amounts of water for coal-fired power plants, nuclear reactors and the fracking extraction of natural gas," said Pam Solo, president, Civil Society Institute.
"It didn't have to be like this," she continued. "In 2005, the Congress mandated that the U.S. Department of Energy produce a water/energy roadmap. Seven years later, we have neither a roadmap nor even a general understanding of what water resources we do have. We don't know what the competition between energy, agriculture,
industrial and residential uses will mean for food security and the dependability and costs of energy sources that are reliant on increasingly scarce water. The sad truth is that we are flying blind today when we could have had the foundation for a national water/energy plan in place years ago."
Several other issues of concern include higher food prices (66 percent), higher gasoline prices (61 percent) higher utility bills (49 percent) and diminished recreational activities (24 percent). Fracking, a type of drilling process for oil, is of concern for 77 percent of respondents.
Two thirds of American now think that climate change is "real" or "appears to be happening" while only 6 percent answered that climate change is "definitely not happening. Of those who believe climate change is real or appears to be happening, 73 percent have been influenced in their views by "recent extreme weather events in the United States — including drought, wildfires, high-wind storms, and other developments."
Click here for the full survey results.