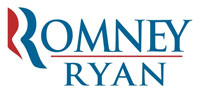 Presidential candidate Mitt Romney is rolling out his energy plan with the goal to "achieve North American energy independence by 2020 and establish America as an energy superpower in the 21st century."
With a strong emphasis on opening up and developing more domestic sources for petroleum, the Romney plan does include a small mention of renewable sources and one line that is very welcome to ethanol supporters: Support increased market penetration and competition among energy sources by maintaining the RFS and eliminating regulatory barriers to a diversification of the electrical grid, fuel system, or vehicle fleet.
"We applaud Governor Romney's commitment to domestic renewable fuels and his recognition of the importance of the RFS," said Renewable Fuels Association President and CEO Bob Dinneen. "By working to remove barriers to market access for renewable fuels, as Governor Romney suggests, America can help spur an economic recovery while securing our energy future. We look forward to hearing more details of Governor Romney's energy ideas as the campaign continues."
Romney's plan also calls for ensuring "that policies for expanding energy development apply broadly to energy sources,from oil and gas exploration, to coal mining, to the siting of wind, solar, hydroelectric, and other renewable energy facilities." The candidate will be making a speech about his energy policy in New Mexico today.