It may not be effective to be passive person but it is good to be a passive home. East Bay (California) general contractor Anthony Maramonte of Mara Construction has partnered with Jame P. Wright an architect with Net Zero Homes to restore the historic "The Old Yellow House" to be model of energy efficiency.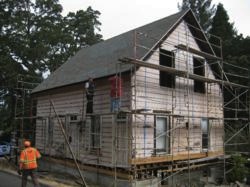 A passive home is an ultra efficient building standard that saves up to 85 percent on space heating and cooling. Although this is a concept dating back more than 20 years, it is now being adopted for all building types. Today, more than 20,000 projects have been completed using the "passive" style to achieve energy efficiency.
"We are very excited to be involved in a project with Net Zero Homes and this new avenue of energy efficient homes," said Anthony Maramonte.
Does it take new expensive gadgets, lots of money and strange designs to make your building passive? No. The building is super insulated and gains heat by internal gains from people, electrical equipment and passive solar gains through windows and doors. It provides fresh air through an energy recovery system that recovers exiting conditioned air. In addition, by adding a properly sized solar array, any building can reach the level of net zero.
What do you gain? A cool, comfortable, energy bill free building.