The Sustainable Aviation Fuel Users Group (SAFUG) has added a new member – United Airlines. The group's goal is to accelerate the development and commercialization of aviation biofuels. The members of SAFUG represents nearly 32 percent of commercial aviation fuel demand, and upon joining, commit to testing and using aviation biofuels.
United Airlines has been one of the leaders of the adoption of sustainable fuel with the airline testing aviation biofuels in November 2011 during a U.S. commercial flight. Prior to this, United Airlines held several demonstration flights dating back to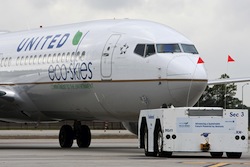 2009. In addition to joining SAFUG, the company also signed a letter of intent to purchase at least 50 million gallons of biofuels for use in its operations.
"We are excited to collaborate with other industry leaders in our shared quest to advance sustainable biofuels," said Jimmy Samartzis, managing director of Global Environmental Affairs and Sustainability for United. "We will all benefit from our collective work to find solutions to make alternative fuel available at commercial scale and secure a sustainable future for aviation."
This move is just one of several United is making to decrease its impact on the environment. The company has also been investing in more fuel-efficient aircraft and equipment and has more than 3,600 ground support equipment vehicles, or nearly 26 percent of its fleet of ground support equipment, is electric or alternatively fueled, among other initiatives.