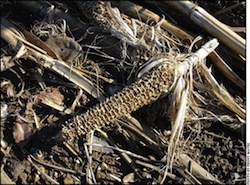 POET Research has signed a technology collaboration joint development agreement for cellulosic ethanol with Agrivida, a developer of biotechnology platforms for feedstock and feedstock processing. As part of the four-year agreement, POET and Agrivida will develop Agrivida's technology platforms as a means of reducing capital and operating costs of commercialized cellulosic ethanol biorefineries.
The first feedstock of focus will be corn stover, the key feedstock that POET has been focusing on to develop cellulosic ethanol at its plant under construction in Emmetsburg, Iowa known as Project Liberty. Agrivida is helping POET to develop traits engineered to improve the pretreatment of corn stover and make it easier to break down cellulose while reducing the cost of enzymatic application. These are key areas that need to be refined to help cellulosic ethanol reach price parity per gallon with other forms of first generation biofuels and traditional transportation fuels.
"POET is committed to working with new and innovative technologies that will improve the cost and value of cellulosic ethanol production," said Dr. Wade Robey, POET Senior Vice President and Chief Technology Officer. "If successful, Agrivida's novel approach to increase the functionality and value delivery of corn stover will work well with other technologies being developed by POET."
POET will evaluate and test Agrivida's proprietary, low-severity corn stover feedstock processing technology, which is targeted to provide significant capital and operating cost savings at commercial facilities.
Mark Wong, Agrivida CEO said, "We are excited to be working with POET to improve the economics of advanced biofuels production. POET has one of the most advanced commercial cellulosic programs in the world with strong research, development and commercial deployment capabilities. POET will be a great partner as Agrivida transitions its technology from research and development to a commercialization phase."