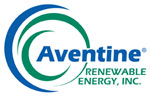 Aventine Renewable Energy has announced the company has entered into a Restructuring Agreement with 100% of its term loan lenders. Under the terms of this agreement the company will convert the majority of its outstanding term loan debt into newly issued common equity, representing, on a fully diluted basis, approximately 92.5 percent of the issued and outstanding common stock after the issuance.
The company's board of directors have approved the agreement and 60 percent of the stock holders have also approved the agreement. If the agreement is fully executed, Aventine's existing debt should be reduced by nearly $135 million. In addition, the agreement would not affect unsecured creditors and trade creditors will continue to receive payments. The transactions are targeted to close sometime in the 3rd quarter of this year.
"The Company would like to thank its lenders and significant stakeholders for supporting its business and operations. These are difficult times for the industry and the consummation of these transactions is expected to result in a much stronger balance sheet for the Company," said John Castle, Aventine's Chief Executive Officer.