Chrysler sees great value in ethanol. James Frusti, Chrysler Group manager of Fuels, Energy and Regulatory Affairs, presented the company's ethanol strategy as part of the auto industry's greater efforts of collaboration during the 25th Annual Ethanol Conference.
Fursti said that center stage of bringing any technology to market is the customer and the technology must provide value to the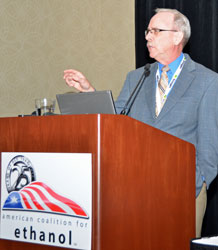 customer. "Whether it be for vehicle technology, a new energy source, or a new fuel source, to us that's all technology," he said. Ethanol is one of these technologies.
At Chrysler, Fursti explained that they are trying to make the internal combustion engine as efficient as possible given the challenging fuel efficiency and greenhouse gas requirements. To do this, they are looking at ethanol and biodiesel. But in order for Chrysler to invest in the development of ethanol engine technology, several things need to happen.
1)   More flex-fuel vehicles (FFVs) need to be sold.
2)   Customers need to understand the value in ethanol. When this happens they will buy FFVs so they need to be more broadly available in the retail market.
3)   Automakers need to be able to obtain greenhouse gas credits and improve their ability to comply with challenging requirements. The soon to be published 2017-2025 Fuel Economy and Greenhouse Gas Rules by the Environmental Protection Agency (EPA) will explain how this will work and it is believed automakers will receive greenhouse gas credits for FFVs.
The next step, said Fursti, is that they need to know with certainty when there is going to be enough mid-level blends of ethanol available at the retail level for them to invest in redesigning their engines.
To succeed, there will need to be effective collaboration between the industries. There will also need to be more communication with the customer and legislators, said Frusti. Stealing a quote from UDSA Ag Secretary Vilsack, you've got to tell the story to the customer and you've got to tell the story to the legislatures.
You can view James Frusti's presentation here and also listen to his remarks: James Frusti Tells the Ethanol Story