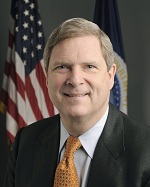 Agriculture Secretary Tom Vilsack today announced 106 projects in 29 states, Guam and Puerto Rico have been selected for funding to make renewable energy and energy efficiency improvements. Money for the projects comes from the USDA Rural Development's Rural Energy for America Program (REAP), authorized by the 2008 Farm Bill.
"The Obama Administration is helping agricultural producers and rural small business owners across the country reduce their energy costs and consumption," Vilsack said. "This is part of the President's 'all-of-the-above' energy strategy, which involves expanding support for traditional as well as alternative energy sources. Stable energy costs create an environment for sustainable job growth in rural America."
The release highlighted projects such as a Washington County, Iowa wind turbine on a farm and an anaerobic digester in Wisconsin that will produce enough power for 420 homes each year. You can see the complete list of projects here.
REAP provides grants and loan guarantees for agricultural producers and rural small businesses to reduce energy consumption and costs, use renewable energy technologies in their operations and conduct feasibility studies for renewable energy projects. USDA has an active portfolio of more than $170 billion in loans and loan guarantees.