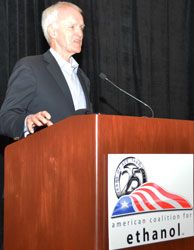 Former Nebraska governor and senator and candidate for the Senate once again, Bob Kerrey, urged the crowd at the American Coalition for Ethanol conference Friday to fight for the industry.
"The only way you beat these guys is by fighting," Kerrey said about the opponents of ethanol. "With the RFS, you cannot win this thing by being kind and gentle."
Kerrey also urged Congress to get a farm bill passed as soon as possible. "The House needs to take this bill up and pass it," he said. "The idea of an ad hoc disaster bill is a mistake. It's not going to be good for agriculture, it's not going to be good for ethanol, it's not going to be good for the long term future of the American economy."
Kerrey is the Democratic candidate to replace Sen. Ben Nelson (D-NE), facing Republican Deb Fisher who was invited to the ACE conference but was unable to attend.
Listen to Kerrey's remarks here: Bob Kerrey of Nebraska remarks at ACE
Listen to interview with Kerrey here: Bob Kerrey Interview
2012 ACE Conference Photo Album