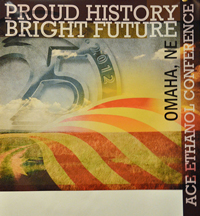 Despite a drought that is lowering the corn crop and causing ethanol plant shutdowns, American Coalition for Ethanol Executive Vice President Brian Jennings thinks the organization's 25th annual conference last week was the most positive ever.
"We're really encouraged and enthused about how the conference went," said Jennings. "We know things are tough out there but we ended this conference on the most positive note I think we've ever ended a conference."
Jennings was especially pleased with the strong support from Agriculture Secretary Tom Vilsack for both ethanol and the Renewable Fuel Standard and they agree with Vilsack's view of keeping the RFS in place despite a lowered corn crop. "We won't know how many bushels are produced until harvest," he said. "It is premature for the calls that have been made to waive the RFS."
Listen to my wrap-up interview with Brian Jennings here: ACE EVP Brian Jennings
2012 ACE Conference Photo Album
During the conference, three new board members were elected.
Paul Enstad, Board of Governors Chairman for Granite Falls Energy, LLC, a 60 million-gallon-per-year (MGY) ethanol producer in Granite Falls, MN
Doug Punke, CEO of Renewable Products Marketing Group (RPMG), an ethanol marketing company in Shakopee, MN
John Christenson has joined the ACE board representing Christianson and Associates
In addition, four board members were re-elected.
Ron Alverson, Wentworth, South Dakota, representing Dakota Ethanol
David Gillen,  White Lake, South Dakota, representing South Dakota Corn Utilization Council
Wallie Hardie, Fairmount, North Dakota, representing North Dakota Corn Growers Association
Brian Wilcox, Columbus, Nebraska, representing Nebraska Public Power District