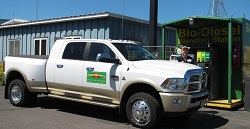 The power of biodiesel was on display in Wisconsin for all to see as Herb Blaser's 2011 Dodge Cummins Diesel 3500 roared to a win at the 2012 Almena Fun Days Truck Pull.
Blaser, a coordinator at SunPower Biodiesel, ran his truck on his company's own blend of the green fuel.
This makes a repeat win for Blaser, who took first in the 2011 tractor pulling event. That tractor was also fueled by SunPower Biodiesel.
This year, the competition was stiff with nineteen trucks competing. "There were a lot of other trucks that blew a great deal of black smoke, mine hardly had any and none of it was black!" comments Blaser.
Sunpower Biodiesel's 3 million gallon a year facility in Cumberland, WI proudly displays its affection for biodiesel, with a big LED moving sign in front of their production facility that reads, "Green is power, ask the Hulk." The company also manages two retail fueling stations in Cumberland, WI and Duluth, MN.