The concern over the American drought and the impact that ethanol production is having on corn prices has gone global. Jose Graziano da Silva, the director-general of the UN's Food and Agricultural Organization, said that the easing of U.S. ethanol mandates could stave off another world food crisis.
In response, the Global Renewable Fuels Alliance  (GRFA) wrote, "While the current drought in the US Midwest has placed tremendous pressure on farmers, any action to reduce or eliminate the RFS would be premature and have immediate consequences in lost jobs and an increased reliance on crude oil imports."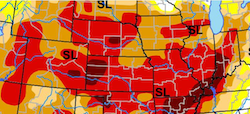 GRFA cited that the flexibility embedded in the Renewable Fuel Standard (RFS) is an effective way of reducing demand for corn during difficult time. U.S. ethanol production is down nearly 14 percent and refiners are holding an estimated 2.6 billion RFS credits that can be used to meet their compliance requirements.
Total grain output globally is expected to drop by 2.9 percent this year; yet, it is still estimated to be the second largest in history. Estimates show grain ending stocks 4% above the 10 year average.
National Corn Growers Association (NCGA) President Garry Niemeyer thanked farmers for having done so much to increase the corn supply. This year's corn acres paralleled that in 1937; however, this year with advanced agronomic practices, new seed technologies and improved genetics, corn is able to withstand extreme conditions, such as heat and drought, better than ever before.
."..we remain hopeful that above average yields in some areas will further augment the crop. At the same time, we recognize that it will not fully cover yield concerns." Without these advanced technologies, said Niemeyer, the production losses would be much greater.
"As prices and emotions rise, so does the temptation to take action that might actually hurt us all in the long run," added Niemeyer. "Right now, farmers, ranchers, ethanol producers and much of the country is suffering through this historic drought. Yet, we suffer together. We have all seen our investments, be they of time, hard work or resources, wither under the unrelenting heat. With empathy and a strong spirit of cooperation, we will come through these difficulties stronger for the experience and with renewed vigor to build a brighter future for ourselves, our industry and our country."