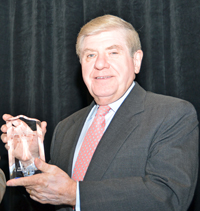 During its 25th annual conference in Omaha Friday, the American Coalition for Ethanol (ACE) presented U.S. Senator Ben Nelson (D-NE) with the Merle Anderson Award for his leadership in supporting the renewable fuels industry while serving as Governor and Senator of Nebraska.
Nelson established the Governors' Ethanol Coalition in 1991, helped create the first energy title in a farm bill, and played a key role in passing the Renewable Fuels Standard (RFS) in 2005, and the expanded RFS in 2007.
The Merle Anderson Award is named in honor of the founder and first president of ACE who serves as Chairman Emeritus of the ACE board of directors.
The senator, who is retiring this year after serving in the Senate since 2001, was honored by the award named after Anderson. "It's very heartwarming to be considered in his company," he said. "I'm just very proud."
Nelson commented on work not done in Congress on a farm bill, which would include livestock assistance for livestock producers affected by the drought, and why that would help more than waiving the Renewable Fuel Standard. "We don't want to go backwards trying to go forwards. There are other ways of dealing with this, we don't have to start changing the RFS," he said.
Listen to my interview with Sen. Nelson at ACE: Sen. Ben Nelson