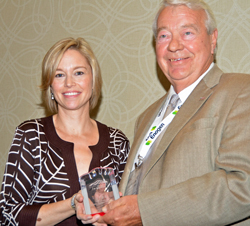 One of several awards given at the American Coalition for Ethanol (ACE) conference in Omaha on Thursday night was presented by the organization's president to his daughter.
Lars Herseth had the honor of presenting the award to Stephanie Herseth-Sandlin, former Congresswoman from the state of South Dakota. She was honored for her dedication to the ethanol industry, both as a member of Congress and in private industry.
"It was certainly special to receive the award from my father and all the folks I've worked with over the past decade," she said. "To receive such a distinction makes me feel great about my public service as well as my on-going advocacy that I've brought value to the table for all of their efforts."
Herseth-Sandlin, a Democrat who served in Congress from 2004 to 2011, helped to shape energy policy at the time that included the current Renewable Fuel Standard (RFS). "Now it's about making smart judgements in defending the RFS but looking for additional new opportunities," she said. Those opportunities include the Urban Air Initiative, which she talks about some in this interview and will be discussed at the ACE conference on Friday.
Listen to my interview with Herseth-Sandline here: Stephanie Herseth-Sandlin
2012 ACE Conference Photo Album