Consumers in California have been choosing to purchase carbon offsets when they fill up at the pump. Propel Fuels has been operating a pilot program with its flagship Clean Mobility Center in Fullerton, California. When a consumer purchases carbon emissions offsets it goes through the Carbonfund.org Foundation. Since Propel launched CarbonOffset in May, nearly 1,000 customers have spent $1.00 per fill and offset more than 160,000 pounds of CO2 at one station.
"It's encouraging that, even during a period of high fuel prices, consumers are choosing to pay a little extra to offset their emissions, one tankful at a time, to help make progress toward our nation's clean energy goals," said Matt Horton, CEO of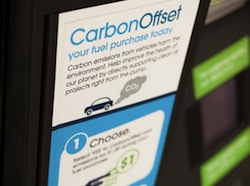 Propel. "By making carbon offsets convenient and cost effective, we're helping consumers take part in the clean energy movement, even if their vehicles don't run on renewable fuels."
The program is not just for consumers driving cars and trucks. Fleet drivers can also participate and keep track of their efforts through the CleanDrive program. Members receive personalized emissions reports that include CO2 reductions, barrels of oil displaced and equivalent annual impact of mature trees.
When carbon offsets are purchased, Carbonfund.org Foundation uses the money to fund projects focusing on renewable energy, methane capture, energy efficiency, reforestation and other carbon emission reduction projects. CarbonOffset participants are currently helping to fund the Truck Stop Electrification Project, an initiative that provides truck drivers the ability to access heating, cooling, internet, TV and other amenities by plugging into electricity rather than idling their diesel engines.
Due to the early success of the program, Propel plans to expand the program to more locations. "The early success of Propel's CarbonOffset program is strong evidence that consumers are ready and willing to support clean energy, especially if the cost and benefits are clear," added Eric Carlson, President of Carbonfund.org. "Thanks to Propel, thousands of drivers can vote with their dollars to support clean energy and domestic, renewable fuels."