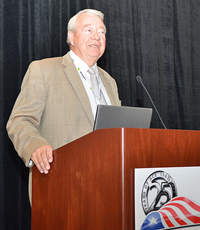 American Coalition for Ethanol (ACE) president Lars Herseth of South Dakota was pleased to welcome more than 250 ethanol industry representatives to the 25th annual meeting of the grassroots organization, with the theme of "Proud History, Bright Future."
"We know that we have a challenging, though a bright future in front of us," said Herseth, a livestock producer who strongly supports ethanol, noting that the current situation facing the industry due to the drought will be short-lived. "So certainly we don't want to look at any rash decisions to solve a short term problem."
Listen to his opening comments here: ACE president Lars Herseth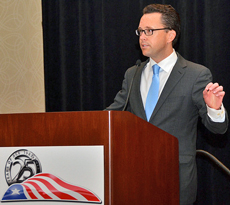 ACE Executive VP Brian Jennings says one of the characteristics that has defined the organization since 1987 is the need to "humanize" the benefits of ethanol. "The need for there to be a grassroots voice for ethanol is as critical today as it ever was," said Jennings.
Discussing the attacks on the Renewable Fuel Standard (RFS) by critics in the face of this year's drought, Jennings pointed out that there is no good reason to change it. "It's the drought that's the problem, not the RFS," he said. "If they had the evidence that the RFS was causing severe harm to the economy, they would have convinced a governor by now to submit a valid petition to EPA and we would be well into the process."
Jennings said the industry is very grateful for the support of Agriculture Secretary Tom Vilsack and Senator Chuck Grassley (R-IA) but wonders why other ethanol supporters have been so quiet lately. "We haven't had enough of our champions come to our defense," he said.
Listen to Jennings' comments here: ACE Executive VP Brian Jennings
Vilsack and a few other supporters, like Sen. Ben Nelson (D-NE), will be at the ACE meeting tomorrow. Check out the photo album link and watch for updates from the conference.

2012 ACE Conference Photo Album