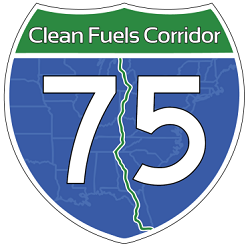 Taking that cross-country, summer trip just got a little greener as four more E85 ethanol and three more biodiesel blend stations have opened up along Interstate 75 in Georgia. That particular road is part of the I-75 Green Corridor Project, running from Michigan to Miami, Florida. The stations are being made available through East Tennessee's Clean Fuels Coalition's (ETCleanFuels) part in the I-75 Green Corridor Project, with the folks from Protec Fuel installing their seventh alternative fuel station along the route:
ETCleanFuels' goals for this program are to collaborate with partners to add E85 and B20 pumps all along I-75, making it the longest alternative fuels corridor in the United States. ETCleanFuels is a non-profit Clean Cities coalition based in Knoxville, Tenn. (which is along the I-75 Corridor). Clean Cities strives to introduce fleets and individuals to alternative fuels and bring more of those fuels to their respective regions throughout the country.
Out of the 25 E85 or biodiesel stations originally planned for installation through the I-75 Corridor Project, 20 have been installed so far and another 10 are in various stages of planning or installation. Although Protec is the lead for these stations, connecting Chattanooga to Atlanta, Protec is also partnering with ETCleanFuels for several other stations in Tennessee and Florida, thereby assisting in close to half of all the project's stations by its finish.
"We are honored to be a major partner, fuel station installer and fuel provider for this important project," said Steve Walk, an executive director of Protec Fuel. "This project can prove biofuels are accessible, and hopefully turn new users onto renewable fuels," he said.
The new locations for the green fuels are in Rocky Face, Ringgold, Acworth, and Dalton, Georgia. Check the I-75 Green Corridor Project website to find out more specifics where to get your fuel.