The Marine Exchange of Southern California has just completed a renewable energy project that included the addition of solar and wind power. The energy generated will power all the Marine Exchange electricity needs for its operations for tracking vessels entering and leaving all Southern California waters.
The $450,000 project was supported by the Los Angeles Department of Water and Power along with the Port of Los Angeles. EcoMedia entered into an advertising partnership with the Port of Los Angeles, where a portion of the Port's TV ad costs were provided by EcoMedia to support the project. With the help of city grants and rebates, the direct cost to the Marine Exchange was less than $200,000.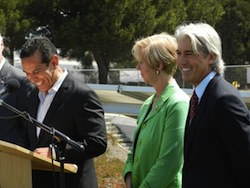 "With this project, the Marine Exchange gains its energy independence and Los Angeles takes another step forward to becoming one of the world's cleanest big cities," said Mayor Villaraigosa, who was at an event to showcase the new renewable energy project. "Government can't do it alone, and we applaud the Marine Exchange of Southern California for teaming with us to create a winning project that makes our city a healthier place to live and work."
The project took two years to complete. Built atop one of the highest points in San Pedro, there are 286 solar panels and four wind turbines generating 87 kW – enough to power the Marine Exchange's 55-60 kW needs and feed the remaining electricity to the grid. The wind turbines were built with an experimental vertical generator to protect birds.
"We are the modern equivalent of a lighthouse that helps ships find their way safely," added Capt. Richard McKenna, Executive Director of the Marine Exchange. "With this project, we are also a figurative lighthouse helping to guide the way to cleaner, greener operations in the San Pedro Bay."