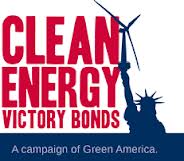 U.S. Representative Bob Filner has introduced the "Clean Energy Victory Bonds Act of 2012 (PTC)" that would allow Americans to invest billions of dollars to help develop clean energy technologies. The bill has good support: 10 co-sponsors, Green America and more than 40 other institutions have come out in support of the legislation.
The majority of the production tax credits for alternative energy and energy efficiency projects have either expired or are set to expire this year. The tax extender package has some two-year extensions for wind, biodiesel and cellulosic ethanol, but not for other energy sources. While it has passed through the Senate Finance Committee, it must still pass the Senate and pass through the House.
This bill would extend all renewable energy and energy efficiency projects up to a decade and also give Americans the ability to help "choose" the projects they would like to support.  Similar to the Victory Bonds from WWII, Clean Energy Victory Bonds could leverage billions of dollars of public and private finance for development.
"The importance of a clean energy future for America cannot be overstated," said Alisa Gravitz, president of Green America. "Just like Victory Bonds helped to ensure the nation's victories in World War II, so, too, can Clean Energy Victory Bonds allow Americans to invest in a future that benefits our country economically, politically, and environmentally."
Should the bill pass, with as little as $25, Americans could buy Clean Energy Victory Bonds from the U.S. Treasury. Over time, the bonds would pay the owner a competitive rate of return.