Fiberight has announced it has received key federal approval for its production process. The company, who has enlisted Novozymes as a partner, has developed technology to convert non-recycled municipal solid and industrial wastes into advanced biofuels. To achieve federal approval, the company proved its ability to separate recyclable paper, cardboard, plastics, rubber, textiles, metals and glass wastes from organic materials such as food waste.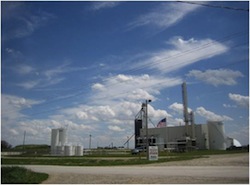 "The days of waste ending in a landfill are gone," said Craig Stuart-Paul, Fiberight Chief Executive Officer. "We are giving trash a new beginning – firing our plant and fueling cars and trucks – and providing a less expensive, domestically-made energy source for the country."
The Environmental Protection Agency (EPA) is looking to Fiberight to be one of the first cellulosic biofuels producers to begin producing fuel at commercial scale. According to a company statement, Fiberight is nearing commercialization of advanced biofuels, spurred by the mandates required by the Renewable Fuel Standard (RFS2).
The company's first plant online will be in Lawrenceville, Virginia in which $20 million has been invested. Once running at full production, the facility will produce nearly 1 million gallons per year. The plant is currently focused on putting the enzymes to work to break down the trash.
The next step is to bring a larger-scale commercial facility online in Blairstown, Iowa with a target date of 2013. The Blairstown facility will have capacity to produce six million gallons per year.