Despite raging concerns about the effect the worst drought of 50 years on the corn harvest, the former Bionol ethanol plant in Pennsylvania is back up and running after being purchased by Zeeland Farm Services (ZFS). Production began last month at the now named Pennsylvania Grain Processing LLC and is producing ethanol, dry distiller's grains and other products.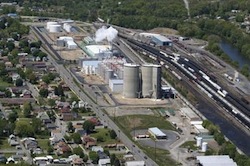 Nearly all of the former employees of the plant were brought back and there are plans to hire additional employees. Cliff Meeuwsen said the plant is up and running at full capacity. ZFS also owns and operates corn and soybean processing plants in Nebraska and Michigan and is no stranger to operating agricultural businesses in times of challenges.
Even when corn prices are not through the roof and various industries (i.e. livestock, ethanol, etc.) are competing for corn, not much corn is grown in the state; therefore, the plant, as well as producers, must ship corn to the state to meet needs.
Yet Meeuwsen said there's ample corn to meet both the ethanol plant's needs as well as other needs. "We've gotten a good corn supply from the farm people around here," Meeuwsen said in an interview with Pittsburg Business Times. Meeuwsen has been in the industry for 60 years. He noted this is the worst drought he has experienced since 1988.
"Ethanol has seen its ups and downs before, and although this time frame is going to be very tough on it and the margins are very bad, a great many of them will survive," he said. "And when there is corn aplenty again, ethanol will continue to make sense. I think the industry will then go forward."