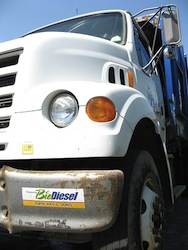 In a letter, the Midwestern Governors Association (MGA) has asked diesel engine and vehicle manufacturers to support the use of B20 (20 percent biodiesel + 80 percent diesel) in all diesel run equipment. The call is joined by the Iowa Biodiesel Board along with Iowa Governor Terry Branstad, who is the Chair of MGA.
"As Governors, we see increasing the use of biodiesel as an important part of diversifying our nation's energy portfolio," the MGA said in the letter sent to 23 automakers and Original Equipment Manufacturers. "We will continue to encourage policies that will expand consumer access to higher blends of biodiesel…It is our firm belief that companies that support B20 will capture market share from those companies that choose not to support B20—especially in the Midwest."
As states pass policies mandating the use of higher blends of biodiesel, equipment manufacturers will need to produce equipment that is designed for higher blends of biodiesel. Today, more than 65 percent of engine and equipment manufacturers support B20.
The letter outlines several other key reasons why supporting use of B20 is the correct action to take:
More than 13 states are encouraging use of higher biodiesel blends from B2–B20 through a variety of state policies.
The use of biodiesel reduces emissions as well as reduces the need for imported oil.
The Renewable Fuels Standard (RFS2) calls for the use of 1 billion gallons of advanced biofuels in 2012 (biodiesel is categorized as an advanced biofuel) and increased the use up to 5 billion gallons per year by 2020.
Randy Olson, executive director of the Iowa Biodiesel Board added his organization's support greater use of higher blends of biodiesel. "This united call to action from 10 governors is an extraordinary show of support for B20, and we commend them for their bold leadership."