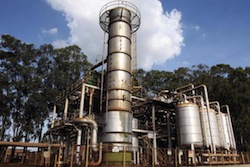 Cobalt Technologies and Rhodia, a member of the Solvay Group, is partnering to develop and operate a biobutanol demonstration facility in Brazil. The plant will use Cobalt's technology to convert bagasse (sugarcane by-product) and other local feedstock into bio n-butanol, which can be used as both a transportation fuel or industrial chemical.
"This agreement puts us on a clear path towards commercialization, which will result in the development of the first commercial-scale biorefinery using bagasse as a feedstock for the production of biobutanol," said Bob Mayer, CEO of Cobalt Technologies. "We are very pleased to be working with Rhodia. Our corporate values and goals are aligned and Rhodia's experience in the global chemical markets and long history of success in Latin America position us well for success."
Work on the construction of the demonstration facility will begin in August 2012 and will be moved to a sugar mill site in early 2013 for testing. Operational testing is expected to be completed by Mid-2013.
Vincent Kamel, president of Rhodia Coatis Business Unit, added about the partnership, "We are convinced that Cobalt's technology will provide an unmatched cost advantage over the long term, while also enhancing our sustainable development strategy related to our Augeo range of biosourced solvents. We look forward to our continued partnership, working closely with Cobalt to capitalize on the massive market opportunity for bio n-butanol in Latin American and beyond."