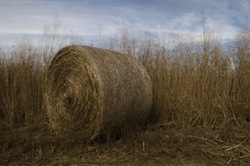 Sweetwater Energy has exceeded its goals for Series A funding raising $9 million, $4 million over its original goal. The New York-based company is developing a process to produce cellulosic sugar that can be used to produce biofuels, biochemicals and bioplastics. The company's primary target is is refineries.
"As anyone trying to start a business today knows, the economic climate is very difficult for fundraising right now, but we received an incredible response," says Keith Wilson, Sweetwater's Chief Financial Officer. "This funding is already launching us into our next stage of development, which includes Sweetwater's first commercial contracts and the design and fabrication of the first wave of facilities for 2013."
The company raised $1.2 million in its first round on funding back in 2010 and also secured a grant from New York State Energy Research and Development Authority. In addition, Sweetwater generated some revenue from the sale of cellulosic sugar to the Department of Defense to test for jet fuel production. Today the company is leveraging its work in its pilot scale facility to build a commercial scale facility.
Chesonis concluded, "Ultimately, it's the economic and cost drivers for lower-cost petroleum substitutes that are fueling the remarkable demand for Sweetwater's technology. We're excited to raise this capital and move into the next stage of growth; commercial contracts to fulfill that remarkable demand."