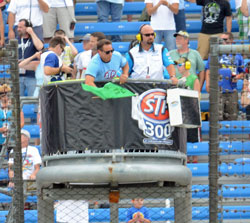 E15 is on display again today at the NASCAR Nationwide STP 300 race in Joliet, IL. We had a few raindrops just before the green flag but it dissipated and the race is on.
Prior to the race I spent time with the Illinois Corn Growers Family Farmers High Performance Team. Spokesperson, Kenny Wallace, driver of the 09 car today was on hand. I recorded a conversation he had with Glenn Fritz that I thought you might enjoy. Kenny calls Glenn Fritz "the ultimate farmer." We were located at Greenfields Campground owned by Glenn.
Glenn has a grandson on the farm that is now the 5th generation of the family on the land. He's got an interesting story to tell and I hope you'll enjoy listening to it.
Listen to Kenny and Glenn here: Kenny Wallace and Glenn Fritz