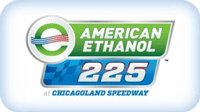 It's NASCAR race weekend in Joliet, IL at Chicagoland Speedway. My home today and tomorrow. I'm joining the Illinois Corn Growers and Family Farmers for two races. First up will be tonight's NASCAR Camping World Truck Series American Ethanol 225.

Then on Sunday we've got the second annual STP 300 which is part of the NASCAR Nationwide Series. The Sprint Cup Series has the weekend off.

Family Farmers cannot be missed at the event, with a 17,000 square foot exhibit area onsite to be complemented with both a Nationwide Series and Camping World Truck Series "Family Farmers" entry. This work is aimed at improving the trust between consumers and family farmers. In corn checkoff funded research, it was revealed that most influential people in the Chicago area think that corporations own most of the farms in Illinois. This erodes the base of support among that same group for issues that are important to farmers regarding regulations, food safety, transportation, and trade.



I'll be hanging out with Kenny Wallace and Illinois Corn Growers this afternoon. Kenny will be driving the #99 Family Farmers car in the STP 300.

"Chicagoland Speedway is a great track for me. We finished seventh in this race last year with our Family Farmers Toyota Camry. Since they closed Gateway International Raceway in 2010, Chicago has become sort of like a home track for me since it is only about four hours away from my hometown of St. Louis. Not only that, but it is the home of Family Farmers and American Ethanol, so I want to run well for them and I feel confident that we will run well."
So, look for photos and interviews later today and tomorrow from an Illinois NASCAR weekend. See you from the track.