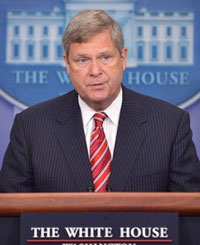 Agriculture Secretary Tom Vilsack held a sobering press briefing Wednesday after meeting with President Obama about the impact of the nation's drought on agricultural production.
Vilsack says the drought is "most serious situation we've had in 25 years" with 61% of the land mass of the United States is currently characterized as being impacted. About one third of the counties in the United States are now designated as secretarial disaster areas and that is expected to grow higher. "This obviously will have an impact on the yields," he said.
When asked if the drought impact on corn should prompt action by the Environmental Protection Agency to roll back the use of corn for ethanol under the Renewable Fuel Standard, Vilsack said, "There is no need to go to the EPA at this time based on the quantity of ethanol that is in storage."
The latest Energy Information Administration data from last week showed another drop in ethanol production from the previous week bringing the average weekly rate down to 841,000 barrels per day for an annualized rate of 12.89 billion gallons. Stocks of ethanol now stand at 19.6 million barrels or about 824 million gallons.