The Blyth Offshore Wind Demonstration Site off the UK coast is sailing ahead. SeaRoc, a marine engineering company, has been contracted to install the foundation, equipment platform and meteorological mast for the wind energy project. SeaRoc is taking over for the previous contractor and construction is scheduled to begin within the next two months.
Andrew Mill, CEO of Narec, the company that owns the Blyth Offshore Wind Demonstration Project, said that this is the largest project of its type in the UK. He also commented that SeaRoc's services were selected because of their proven track record and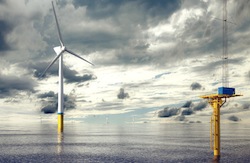 innovative approach.
The mast will be installed 3 nautical miles off the coast of Blyth consisting of a 635t tripod foundation, 100t platform and 25t meteorological mast to provide site wind speed measurements alongside the already installed ZephIR 300 wind lidar. In addition, the platform will collect environmental data and will be equipped with a various monitoring sensors.
"The Offshore Demonstration Facility is key to the future of Offshore Wind, both in the UK and globally – SeaRoc are very aware of this and believe there is enormous value for the offshore renewable sector in the development of the Narec site," said Toby Mead, Operations Director at SeaRoc, who said his company is very well placed to deliver the project. "We view this project as an ideal opportunity to develop a strong working relationship with Narec."