NASCAR driver Todd Peck of Peck Motorsports made his NASCAR Camping World Truck Series debut at the Iowa Speedway in Newton this past weekend.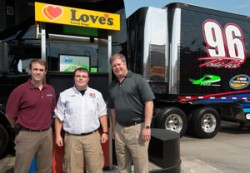 The day before the race, Peck filled up with B15 at Love's Travel Center near the track and took part in a pump promotion there. Area fans came to the event to learn about biodiesel and meet Todd Peck (center) who signed autographs. Peck is pictured with Grant Kimberly of the Iowa Soybean Association (left) and Randy Olson of the Iowa Biodiesel Board (right).
"Peck Motorsports is dedicated to be environmentally clean leaders in NASCAR," said Peck. "Fueling our team transporter full of biodiesel has been a part of that process. We can't thank the Iowa Biodiesel Board enough for joining our efforts in Iowa this race weekend in making our journey as 'green' as possible."
Based in Pennsylvania, Peck Motorsports, with help from Renewable Engineered Systems, has outfitted its race hauler with solar panels on the roof, which power the newly installed LED lights and equipment. The team's goal is to drive to and from races using biodiesel blends. He has has used up to 50 percent biodiesel when filling up.
"We commend Peck Motorsports for taking the initiative to use biodiesel, and would be thrilled to see more NASCAR teams follow suit," said Randy Olson, executive director of the Iowa Biodiesel Board. "NASCAR's popularity as a spectator sport presents a great opportunity to raise public awareness on biodiesel, and I'm proud that Iowa biodiesel is helping to kick off this team's racing series."