The South Dakota Governor's Office of Economic Development (GOED) is now accepting applications for nearly $1 million in funding for the Ethanol Infrastructure Grant Program in the 2013 fiscal year.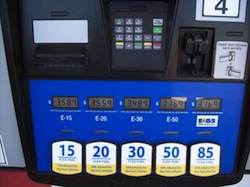 The program was created last year to help station owners defray the cost of installation of ethanol blender pumps, which offer consumers a greater variety of fuel choices, including non-ethanol fuels and higher blends like E15, E30, and E85. The first $760,000 of qualifying project applications will be awarded grants. The additional $200,000 portion of the program funds will be awarded on a competitive basis following the completion of the first phase of funding.
"The fact that the first year's grants were snatched up so quickly proves that South Dakota retailers see the tremendous benefit in installing blender pumps," said Dana Siefkes Lewis, president, South Dakota Ethanol Producers Association. "We're expecting that same enthusiasm this year as even more stations opt for offering consumers a home-grown, renewable choice at the pumps that is good for our state and for our nation."
"Since the start of the program earlier this year, we are already helping to fund the installation of 55 ethanol blender pumps in the state at 26 different retail locations," said Hunter Roberts, GOED energy policy director. "We are happy that we can continue to have a program in place that helps support local industries and local jobs as well."
Ethanol producer organizations says the program will help provide more consumer choice at the pump.
"Ultimately, retailers and consumers both benefit from this program," said Ron Lamberty, vice president, American Coalition for Ethanol. "Retailers can afford to install pumps that offer choices like E15, E30, and E85 to consumers, drivers can choose the blends that work best for them, and since ethanol costs less than gasoline, history tells us they'll choose more ethanol."
"South Dakota has always been at the forefront of providing its consumers with more choices at the pump," said Growth Energy CEO, Tom Buis. "Governor Daugaard is a true champion of ethanol and a leading voice when it comes to the future progress of the industry."
The grant program was created in 2012 to help businesses offset the cost of installing Flex Fuel pumps, which offers higher blends of ethanol like E15, E30 and E85. Last year, the program resulted in 55 new Flex Fuel pumps at 26 locations.