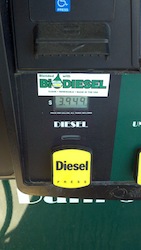 Fill up on biodiesel and meet a NASCAR Camping World Truck Series driver today in Newton, Iowa at 4 p.m. at Love's Travel Stop, 4400 S 22nd Ave. East, (I-80/East 44th St. South).
Meet driver Todd Peck of Peck Motorsports. Peck, a NASCAR racing team from Pennsylvania, is committed to going green. The Peck race hauler has been outfitted with solar panels on the roof which power the newly installed LED lights and equipment, and the goal is to drive to and from races using biodiesel blends. The hauler runs on up to B50, 50 percent biodiesel.
Today, Peck will fill up the race hauler with 15 percent blend biodiesel and sign autographs for local fans. The team makes its NASCAR Camping World Truck Series debut at the Iowa Speedway on July 14.