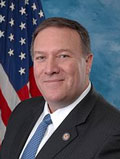 A freshman Republican representative from Kansas today blasted higher ethanol blends during a House subcommittee hearing that focused on the Renewable Fuel Standard (RFS).
"Why don't I hear my constituents screaming for E15 and E85 if it's such a good thing to lower consumer prices?" Congressman Mike Pompeo asked Renewable Fuels Association president and CEO Bob Dinneen during the hearing. "I've only been here 18 months, I'll concede that, but I don't hear it."
Rep. Pompeo's district of Wichita and surrounding areas encompasses Colwich, where ethanol plant engineering company ICM was founded in 1995 by industry pioneer Dave Vander Griend, who has been an active proponent of higher ethanol blends. It is also home to one of Abengoa Bioenergy's ethanol plants, which is currently idled due to the market conditions. Abengoa has a total of six ethanol plants in the United States with two cellulosic ethanol facilities being developed, including one in Kansas.
Pompeo also ridiculed the cellulosic ethanol requirement in the RFS. Listen to his five minutes of questioning during the hearing here: Rep. Mike Pompeo