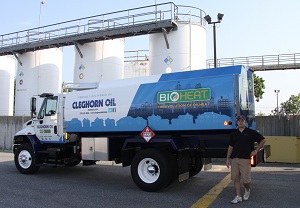 A Massachusetts Bioheat dealer believes there's no better way to show patriotism this 4th of July than parading his newly wrapped truck proclaiming the goodness of the green heating fuel. Cleghorn Oil, a Bioheat dealer based in Fitchburg will have his truck, complete with the Bioheat wrap courtesy of the National Biodiesel Board's Bioheat outreach program, in his town's Independence Day parade:
"I've never seen a more beautiful truck," said Ryan Roy, the company's director of operations. "This is the crown jewel, the showpiece of our fleet. I almost want to put it on a pedestal and keep it as a trophy. People see it and say 'wow, I've never seen anything like that.'"
Cleghorn, which changed its oilheat line exclusively to Bioheat this year, won the wrap at the New England Bioheat Symposium in Boston in March. The application of the wrap was paid for thanks to funding from the Nebraska Soybean Board and the United Soybean Board through the soybean checkoff, but the artwork is available to all registered Bioheat dealers.
Roy's company first learned of Bioheat from Paul Nazzaro, NBB's petroleum industry liaison.
"We jumped on board because it seemed like the right thing to do," Roy said. "Bioheat is better for the country, better for the burner, and cleaner. It's working for us."
Cleghorn gets post cards, door hangers, and other literature from the NBB's Bioheat program to educate its customers on the cleaner heating fuel.