The ranking member of the House Agriculture Committee has doubts about whether cellulosic ethanol will ever be commercially viable.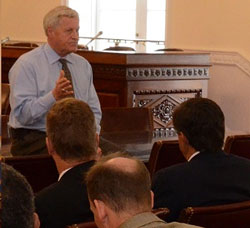 "I just don't think that cellulosic will ever be commercialized," Congressman Collin Peterson said during an interview with Domestic Fuel reporter Chuck Zimmerman after he talked to members of the American Seed Trade Association meeting in Washington Wednesday. "And it's become a problem. I mean, the Solyndra thing … it's become politicized."
Peterson said he believes algae has some potential, but with too many alternative energy plans, the economics don't work without government support. And he points out that the government is broke.
Peterson said the House Ag Committee will be marking up the Farm Bill the week after the 4th of July. It will be interesting to see which renewable energy measures he supports in the Senate's bill and which ones survive the process.
Listen to Chuck's conversation with Peterson here:
Rep. Collin Peterson interview