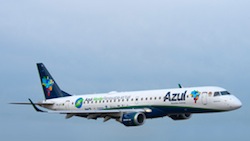 Amyris, Inc. provided a renewable jet fuel blend derived from Brazilian sugarcane to Azul Brazilian Airlines who boasted a successful test flight. The Embraer E195 jet took flight from Campinas Viracopos Airport, flew over Rio De Janeiro, where the U.N. Conference for Sustainable Development (RIO +20), and landed at Rio's Santos Dumont Airport.
Known as Azul+Verde ("a greener blue" in Portuguese), this project began in November 2009 with the goal of developing a cleaner, greener fuel as an alternative to fossil fuels.
"Azul's commitment to reducing our dependency on volatile petroleum products goes beyond reducing our costs. The main objective is to innovate in our service offerings, using the best technologies to reduce our carbon footprint as well as raise awareness among our customers that they are not just choosing an airline that is merely concerned about the environment but is taking steps to preserve it," said Flavio Costa, Chief Operating Officer of Azul Airlines.
A lifecycle analysis and sustainability study developed by a Brazilian think-tank, Institute for International Trade Negotiations (ICONE), indicates that the Amyris renewable jet fuel could reduce greenhouse gas emissions up to 82%, when compared to convention fossil-derived jet fuel.
"Amyris's renewable jet fuel has been designed to be compliant with Jet A/A-1 fuel specifications. To that end, we have successfully undertaken a series of tests that measure its performance," said John Melo, President & Chief Executive Officer of Amyris. "This demonstration flight caps a major milestone in our jet fuel program and allow us to pursue our certification and commercialization goals," Melo concluded.