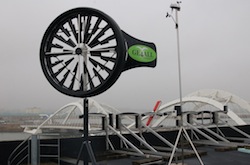 The Michigan Business Development Program has awarded $450,000 for Altronics Energy, LLC. The Right Place, a regional non-profit economic development organization, along with the Michigan Economic Development Corporation (MEDC) and Byron Township all worked together to secure the funding. The funds will be used toward a $2.5 million expansion underway as part of the collaboration between Altronics Energy and Windtronics.
Altronics provides manufacturing, distribution and training services for The Honeywell Wind Turbine, manufactured by WindTronics. The funds will help purchase new equipment and pay for facility improvements. The expansion is estimated to take three years and generate 90 new jobs.
"Altronics Energy is proof that American manufacturing and innovation is alive and well in West Michigan," said Susan Jackson, Senior Business Development Manager, The Right Place, Inc. "This expansion confirms that market diversification in manufacturing works and leads to jobs and growth."
In addition to the expansion project, Grand Rapids Community College partnered with The Right Place, MEDC and Altronics to provide $200,000 dedicated to training the workforce needed in the wind energy industry.  The program will train 51 new hires as part of the Michigan New Jobs program.