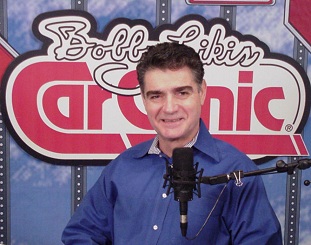 Getting out the facts about ethanol is what the Renewable Fuels Association is all about. That's why the RFA is partnering with car-talk host Bobby Likis to extend their ethanol educational outreach to automotive service professionals. This RFA press release says the outreach is highlighted with the program "Calling All Technicians…20 Facts About Ethanol" on the Car Clinic Network, using radio, websites, social media, print media and key events.
Likis – award-winning, national talk-show host, answering over 100,000 automotive consumer questions live on air – has worn many hats in the automotive industry, including technician, service desk advisor, service shop owner, engine builder and pit crew. "I have 40 years of hands-on experience in servicing and repairing vehicles and building rear-engine dragsters," says Likis. He continues, "I know we technicians share 'prove-it' mindsets, so in that spirit, my aim is to give techs the info they need to make informed decisions…in their service bays, at the pump and at the polls."
Bob Dinneen, RFA's President and CEO commented, "We are excited to have Bobby Likis on our team helping to educate mechanics and car enthusiasts about the benefits of ethanol and the introduction of E15 which will bring more consumer choice to the pump. Auto service professionals are often the first and most important line of communicating with car owners. With Bobby's help we can educate these professionals on the cost-saving, engine performance, job-creating, environmentally-friendly benefits of an American-made fuel that is successfully reducing our dependence upon foreign oil. With Bobby's auto industry credibility and his coast-to-coast audience, this partnership is an exciting endeavor."
You can find out more about the efforts on radio stations and the social media network of the Car Clinic Network.