Construction is complete at the gas-to-energy plant at the Pine Trees Acres Renewable Energy Facility in Lenox, Michigan. Once operational, the facility will generate 12.8 megawatts of electricity, enough to power nearly 12,000 average sized homes. The Pine Tree Acres Renewable Energy Facility, that sits on 14.5 acres of land, generates up to 4,800 cubic feet per minute of landfill gas. This is funneled into eight 20-cylinder engines and produces electricity that is delivered to Consumers Energy customers.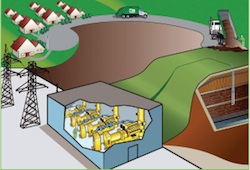 "Waste Management is committed to the investments and innovative technology required to bring a state-of-the-art facility like this to Macomb County communities," said Chuck Cassie, Senior District Manager for Waste Management. "By converting waste into energy for more than 12,000 residents, the new Pine Tree Acres Green Energy Plant represents the best of having tomorrow's technology here and now."
There is an existing gas-to-energy plant currently operational on the site and produces 8.8 megawatts of electricity. In total, the two plants will generate 12.6 megawatts, or enough energy to power nearly 19,500 homes.
Cassie added, "Green energy is reliable energy. As technology allows Waste Management to extract more and more out of waste, landfill gas will continue serving as an ideal source of reliable energy –- for Macomb County and beyond."