The American Coalition for Ethanol (ACE) is saluting U.S. Senator Ben Nelson (D-NE) during its upcoming 25th annual ethanol conference for the Senator's efforts in advancing the ethanol industry.
Nelson will be receiving the Merle Anderson Award for his leadership in supporting the renewable fuels industry while serving as Governor and Senator of Nebraska. Nelson established the Governors' Ethanol Coalition in 1991, helped create the first energy title in a farm bill, and played a key role in passing the Renewable Fuels Standard (RFS) in 2005, and the expanded RFS in 2007.
ACE Executive Director Brian Jennings says Senator Nelson was a perfect candidate for the award this year.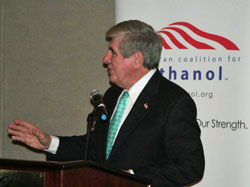 "Senator Nelson has been a great champion on behalf of the ethanol industry. His work and leadership during his time in office really gave a boost to rural economies in Nebraska as well as across America. His efforts have also helped move our country away from a reliance on foreign oil. We are honored that he will be able to accept the Merle Anderson Award at our 25th anniversary conference," Jennings said.
Nelson will receive the award during the 25th annual ACE Conference in Omaha, Nebraska on August 10th. The conference runs August 8-10.
The Merle Anderson Award is named in honor of the founder and first president of ACE, Merle Anderson, who serves as Chairman Emeritus of the ACE board of directors. The award is presented annually to recognize an individual who has made distinguished and significant contributions to the advancement of the ethanol industry. Other ACE Conference honorees will be announced at the 25th annual ACE Conference in Omaha later this summer.