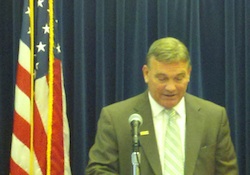 According to a new study by Cardo ENTRIX, the "renewable fuels industry has grown spectacularly over the past decade and Iowa has been a major participant and beneficiary." This is no surprise as Iowa leads the way in biodiesel and ethanol production. To learn about some of the key highlights of the study, I spoke with Brad Albin, VP of Manufacturing for REG Services, LLC and the President of the Iowa Renewable Fuels Association (IRFA) who sponsored the study.
The study was released to help celebrate IRFA's 10th Anniversary and also coincided with the declaration that June 15 is Iowa Ethanol Day.
A few key highlights:
During the past 12 years in Iowa, ethanol production has increased 741% and biodiesel production has increased 1,600%.
The portion of Iowa's agricultural economic output attributable to the renewable fuels industry increased from 4.6% in 2002 to more than 37% in 2011.
By 2011, ethanol and biodiesel production accounted for nearly 7% of manufacturing sector output.
The total number of jobs in the entire Iowa economy supported by the renewable fuels industry has grown from around 3,500 in 2002 to 79,000 in 2011 an increase of more than 2,000%.
The first conclusion many will jump to is the industry is thriving due to subsidies. This is not the case. Today, neither biodiesel nor ethanol receive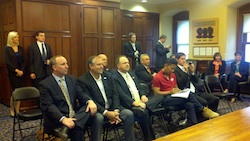 any subsidies. Albin explained, "The incentives that the fairly young biodiesel industry have received pale in comparison to what oil companies continue to receive after they have been in business for over 100 years and are making record profits."
"The biodiesel industry has proven it has the capacity to produce over 1.5 billion gallons per year of renewable fuels from feedstocks grown and produced in America, while reducing hazardous tailpipe emissions, reducing our dependence on foreign oil, creating and needed good paying jobs and returning more value to the economy than any incentive the industry has ever received."
Albin said he hoped but never anticipated how quickly the industry would grow, and he is looking forward to seeing the industry grow even more over the next decade.
You can learn more about the key highlights of the study by listening to my interview the Brad Albin here: Brad Albin Talks Iowa Economics