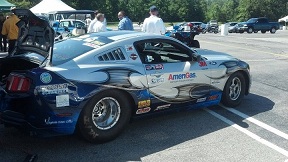 Propane continues to show its versatility and ability to step up as a mainline automobile fuel during the Southeast Propane Autogas Development Program's latest stop during this year's roadshow appearance at the Maryland International Speedway in Mechanicsville.
During the visit, attendees got to see a variety of autogas-powered fleet vehicles, as well as meet Susan Roush-McClenaghan, driver for the ROUSH Drag Team, who talked about her propane-powered Ford Mustang race car and her experience racing the high-performance vehicle.
For those who missed the stop in Maryland, your next opportunity comes next week when the roadshow series stops in Birmingham, Alabama on June 21, 2012. Check out the Southeast Propane Autogas Development Program roadshow series website for more information.