There are energy talks scheduled in Luxembourg tomorrow and EU Energy ministers are expected to adopt higher mandates of renewable energy beyond 2020. To support the goal, there will need to be post 2020 strategies put into place now that include a 2030 policy framework.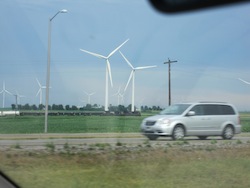 "The European Parliament, European Commission and now all EU Energy Ministers agree on substantially increasing renewables beyond 2020 and the need for a 2030 policy framework," said Christian Kjaer, CEO of the European Wind Energy Association (EWEA). "That is a good start. But investors need EU Ministers to move beyond generalities very soon."
Kjaer, whose organization is in support of higher renewable energy goals that include wind power, has been attending the open meetings of EU Energy ministers. He cautions that even if they agree to increase renewable energy goals after 2020, the first date initial goals are to be met, without strict policy in place the initiative won't succeed.
"If the politicians want private sector investment in renewable energy and its economic benefits including those from European technological leadership, they urgently need to agree on a target for renewable energy for 2030," concluded Kjaer.