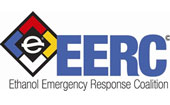 The Renewable Fuels Association (RFA), CN Railway and the Iowa Renewable Fuels Association are co-hosting two Ethanol Safety Seminars in Iowa this week. The Dubuque, IA seminar will be held Wednesday at the Dubuque County Emergency Responder Training Facility, also co-hosted by Big River United Energy. The Waterloo, IA seminar will be held Thursday at the Hawkeye Community College, also co-hosted by Homeland Energy Solutions, Golden Grain Energy, and Absolute Energy.
The goal of these seminars is for attendees to gain full ethanol emergency response training experience that they can put to use immediately in the field as well as pass along to other first response teams. A majority of this training is based on the Complete Training Guide to Ethanol Emergency Response, a training package created by the Ethanol Emergency Response Coalition (EERC) that has been distributed throughout the United States and to several countries worldwide.
Attendees will receive in-depth information on proper training techniques that first responders and hazmat personnel need to effectively respond to an ethanol-related emergency. While primarily targeting first responders, hazmat teams, safety managers, and local emergency planning committees, it is also open to the general public.
Both seminars are free and feature a morning session from 9:00am to 2:00pm and an evening session from 5:30-10:00pm. Lunch and dinner will be provided. To register for this seminar, go to www.rfa.traincaster.com.