Last year was a huge year for exports of U.S. ethanol and co-products, but so far this year it appears unlikely exports will reach that same high level.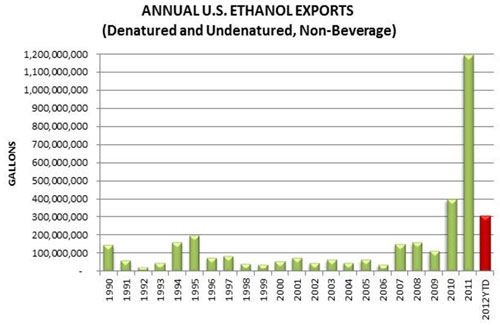 U.S. ethanol exports in 2011 totaled 1.2 billion gallons. As of April, exports stood at just under 309 million gallons, which would bring this year's total to under a billion gallons if demand continues the same.
U.S. ethanol exports, both denatured and undenatured – non-beverage, totaled 74.4 million gallons (mg) in April, down 11% from March but in line with January and February shipments, according to government data released last week. At 54.8 mg, denatured ethanol for fuel use accounted for the majority of April exports. Canada was the top destination in April, receiving 17.7 mg. The OPEC nation of United Arab Emirates (UAE) followed closely with 17.0 mg of imports, while its Arabian Peninsula neighbor Oman brought in 15.1 mg.
Brazil imported just 5.8 mg in April, after importing 65.9 mg a year ago in April 2011 as a result of Brazil lowering its blending requirement from 25% to 20% ethanol. At the same time, the U.S. imported 9.5 mg of sugarcane ethanol from Brazil.
Meanwhile, exports of the ethanol co-product distillers grains, dipped slightly in April to 608,944 metric tons (mt). While down 5% from March, April exports were 4% above year-ago levels.