An online "waste to biogas" mapping tool has been launched by the U.S. Environmental Protection Agency's (EPA) Pacific Southwest Region. The tool maps energy projects that use organic waste as a feedstock. The maps link food and other biodegradable waste sources with facilities such as wastewater treatment plants that produce energy.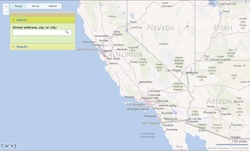 "This innovative mapping tool, the first of its kind in the nation, helps restaurants, hotels and other food waste generators to connect with large energy producers," said Jared Blumenfeld, EPA's Regional Administrator for the Pacific Southwest. "Harvesting this energy prevents waste from ending up in landfills or clogging sewer lines."
Many businesses produce waste including dairy farms and waste water treatment plants. These operations manage waste such as food scraps, fats, oils and grease, by using anaerobic digesters that produce methane. Methane can then be used as an energy source by the operation or sold to others adding another profit stream to their business.
The tool enables users to determine the types of facilities in their area, where clusters are located and the distance between a waste producer and an anaerobic digester.  The tool also functions in reverse – allowing generators of organic waste to find partner facilities that will accept it. In a 2008 study conducted by the Northern California Power Agency, it was determined that agricultural, wastewater, and food processing wastes could be digested and produce 453 megawatts of energy – enough power to run a utility-scale power plant.