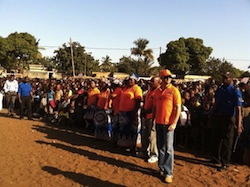 An integrated food, energy and forest business, CleanStar Mozambique, has gone online. Located in Dondo, the ethanol component of the facility will produce fuel from cassava, sourced from the local communities. The cooking fuel will be sold to residents of Maputo. American-based ICM, who has experience with food and fuel integrated biorefineries, helped to design and construct the plant. Last week, CleanStar held a ribbon cutting ceremony and representatives from ICM joined the biorefinery employees and community for a celebration.
Dave Vander Griend, CEO of ICM, attended to ceremony. "ICM is honored to be among the key partners involved in this historic milestone of launching the world's first sustainable cooking fuel facility. The extraordinary level of commitment demonstrated by CleanStar Mozambique/CleanStar Ventures, Novozymes, and Bank of America Merrill Lynch made our decision easy when it came to supporting the project."
The project had strong support because the biorefinery was designed to reduce poverty and environmental degradation and improve the health of families in Africa. Many in the country spend a large percentage of their income on purchasing charcoal to burn for fuel and burning charcoal causes health issues. A portion of the burden will be reduced because the fuel produced from biorefinergy will provide community members with a lower cost fuel.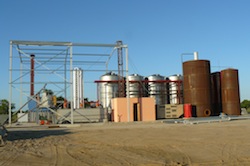 The facility also provides a new income source for local farmers. The farmers will be able to sustainably grow the crops while the facility will produce fuel in a safe and sustainable method.
"Growing up on a farm, it was taught that wealth comes from the ground, crops are cultivated – nourishment is provided and the promise of agriculture is unleashed through producing more food and a stronger local economy," continued Vander Griend. "We believe passionately in improving the health, wealth, and environment of the Mozambique people. Through unique collaborations like this, we can come together to improve African agriculture and potentially replicate this model throughout other developing countries in the world," he concluded.