John Duff has been named renewables program director for The United Sorghum Checkoff Program (USCP).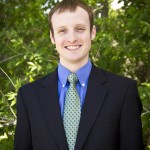 Duff, a native of Levelland, Texas, has previously served as an intern for U.S. Representatives Randy Neugebauer and Kevin Brady, as well as with Combest, Sell and Associates. Duff also held an internship for USDA's Economic Research Service where he managed data on a project examining the impacts of bilateral free trade agreements on agricultural trade.
Duff's family farms near Levelland and remains involved in Levelland/Hockley County Ethanol LLC.
"Renewables have become a valuable sector of the sorghum industry," said Bill Greving, USCP board member and chair of the Renewables Committee. "John's leadership as renewables director will help create more opportunities for producers as this program moves forward. John will be a great asset to the Sorghum Checkoff as he brings with him a good deal of experience in working within the industry."